mogok_pekerja_ladang_1937
Jadual Kandungan
Mogok Pekerja Ladang (1937)
Dirujuk oleh
Ringkasan Kejadian
"Kesatuan Pekerja-pekerja Getah (RWU) Selangor dan Negeri Sembilan ditubuhkan dan diikuti dengan pembentukan Jawatankuasa Mogok Kajang pada bulan Mac 1937. Pada 7 Mac 1937, Jawatankuasa Mogok Kajang mengemukakan 19 tuntutan pekerja ladang kepada pihak majikan Ladang Bangi, Ladang Connemara dan Ladang Rinching. Tuntutan pekerja termasuklah kadar gaji minimum tetap $1 sehari ataupun kenaikan gaji sebanyak 50%, penambahbaikan keadaan perumahan, rehat kerja pada cuti umum, faedah kesihatan yang dibayar oleh majikan dan sebagainya. Pekerja-pekerja ladang getah di Selatan Selangor melancarkan mogok apabila pihak majikan enggan melaksanakan tuntutan pekerja. Aksi mogok ini mencapai kemuncak pada 22 Mac 1937, dengan lebih kurang 20,000 orang pekerja ladang di Selangor dan Negeri Sembilan bermogok. Pihak berkuasa bertindak dengan menangkap pemimpin-pemimpin pekerja." (Belok Kiri @ Sosialis, 18 Februari, 2021: |"Kronologi Revolusi Dunia (Bahagian 2)").
"In early March 1937 Chinese rubber tappers in a number of estates in the Ulu Langat district, such as Hawthornden, Wardieburn, Sungei Rinching, Connemera, and Bangi Estates, struck to demand better wages and more decent working conditions (SSF, 1937). These strikes were fuelled by developments in the Bolton Estate strike in Cheras. In a workers' gathering a police detective who had infiltrated the ranks of the workers was exposed and assaulted. On learning of the matter a police party was dispatched to Bolton Estate and about 60 workers were arrested, though the leaders escaped. Anticipating that the leaders would return to claim the bicycles they had left behind, four police detectives were stationed there. However, contrary to the expectation of the authorities, the Bolton Estate labourers, angered by the police action, organized a protest march to Kuala Lumpur to demand the release of the 60. On their march the four detectives were assaulted when they tried to prevent their progress (SSF, 193 7)." (P. Ramasamy, 1994: |"Plantation Labour, Unions, Capital, and the State in Peninsular Malaysia", m.s. 54-56).
Sumber lain: J. Norman Parmer, 1964: "Chinese Estates Workers' Strikes in Malaya in March 1937", m.s.157-158.
LATAR PERISTIWA: Getah di Malaya
Statistik Berkaitan Kejadian
Kajian Tai Yuen, antara lain menyenaraikan beberapa statistik kejadian di m.s. 337:-
Peranan Komunis
Meneliti sejauh mana Parti Komunis Malaya mempengaruhi, merancang, membantu, serta menyokong mogok para pekerja ini: "The more skilful Chiu Tong then took over and manipulated the situation more subtly and cautiously. He began by grouping the leading MCP (Malayan Communist Party) and GLU (General Labour Union) activists into a twelve-men committee subsequently known as the Kajang Strike Committee. These activists then scattered among the workers to incite and marshall support for a general work stoppage. No mention was made about the Rubber Workers' Union (RWU) they intended to form lest this scared away tappers. By early March the ground had been sufficiently prepared and Chiu Tong issued the order to commence action. A list of nineteen demands purportedly drafted by Lee, Chairman of the Northern Central, and subsequently submitted to other employers in Selangor and Negri Sembilan, was presented to the Bangi Estate in Bangi, the Connemara Estate in Semenyih and the Sungei Rinching Estate in Kajang on March 7th. Employers' refusal to even consider the demands sparked off the strike. Thereupon Chiu Tong announced the formation of the RWU of Selangor and Negri Sembilan and a general membership drive began. On March 8th Lee (or Ngaw), a communist propagandist, purportedly instigated women workers in Wardieburn Estate and Shum Yuk Leung Factory to cease work in order to celebrate the Russian-sponsored International Women's Day. To mark the occasion a woman raised a Red Flag in Wardieburn Estate. The next day the largely female labour force downed tools in Wardieburn and Hawthornden Estates near Ulu Klang. Two days later the Kajang Strike Commitee despatched Yeong Mah Kee and two other communist agents to foment unrest in Negri Sembilan. On November 12th tappers in Batang Benar were induced to submit demands and when employers proved intransigent, strikes erupted. Partly carried by its own impetus, the strike spread to many other estates in Selangor and Negri Sembilan. During this time the orderly nature of the strikes and workers' readiness to negotiate offered no cause whatsoever for government intervention - an eventuality already desired by several employers and police officers."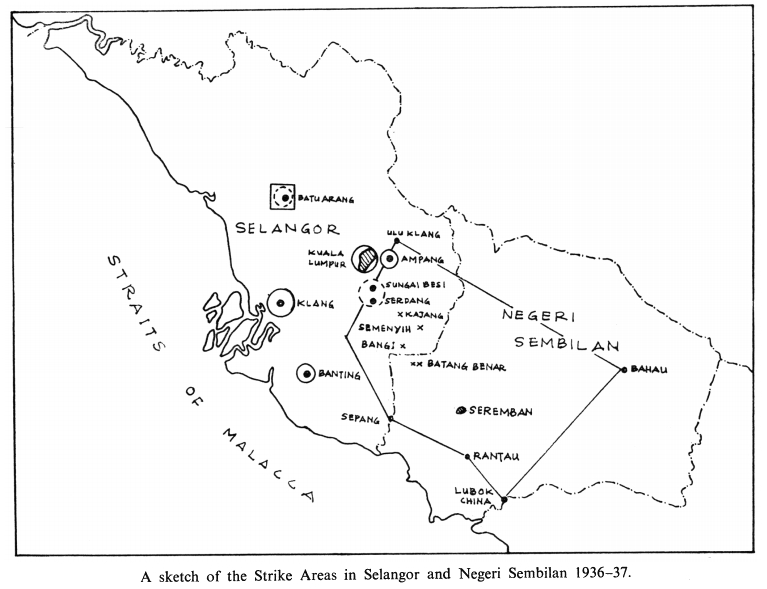 (Sumber: Yeo Kim Wah, 1976: |"THE COMMUNIST CHALLENGE IN THE MALAYAN LABOUR SCENE, SEPTEMBER 1936—MARCH 1937")
Peranan Wanita
Perspektif berbeza tentang peristiwa ini: "Kemaraan kesatuan buruh-buruh wanita semakin memuncak apabila lima daripada ladang getah berhampiran, iaitu Ladang Getah Connemara, Ladang Getah Sungei Rinching dan Ladang Getah Bangi turut melancarkan rusuhan dan mogok secara serentak. Mogok ini dilancarkan apabila pihak majikan apabila pihak pengurusan ladang getah membuang pekerja wanita ladang getah Bangi apabila pekerja-pekerja ini menghentikan kerja buat sementara bagi bagi menyambut Hari Wanita Antarabangsa pada 8 Mei 1937. Pihak majikan bertindak membuang buruh-buruh wanita ini kerana menganggap mereka merupakan agen subversif Komunis. Kerja-kerja buruh ini telah digantikan dengan buruh-buruh murah dari Jawa (SSG 194/1937: Strike on Connemara Estate). Tindakan pihak pengurusan membuang buruh-buruh wanita yang terlibat telah menyebabkan kemarahan rakan-rakan mereka yang lain. Keputusan ini juga menyebabkan mereka melancarkan mogok di lima buah ladang getah yang terlibat secara serentak." (|Ruhana Padzil, 2017: "Perjuangan wanita dalam aktivisme sosial dan nasionalisme di Tanah Melayu, 1929-1957", m.s.244-248)

Sumber lain: "Later, the police were incensed by events on the Wardieburn Estate in Ulu Klang, where female tappers flew a red flag and stopped work to observe International Women's Day; 'one of the days decreed for celebration by the Communist Party of Russia,' fumed Commissioner Sansom. At the same time, he claimed that the strikers had lodged 'exorbitant wage demands' and other 'supplementary and unreasonable demands.' These included the provision of childcare for children under the age of five, schools for the coolies' children, and 'no dismissals or fines without cause and new labourers to be introduced by the present labour force.' In response, the coolie lines on the nearby Hawthornden Estate were raided and the strike leaders dragged off. When the workers held a protest meeting on the lines, the police and soldiers of the Punjabi Rifles attacked with force. Sansom's report read, 'For three weeks this unruly gathering had been a law unto itself, definitely anti-European and defiant.' This strike wave was later crushed by the state authorities." (John Tully, 2011: "The Devils Milk: A Social History of Rubber", |Chapter 16)
Penglibatan Rejimen Askar Melayu