penangkapan_wartawan_1976
Jadual Kandungan
Penangkapan Wartawan (1976)
Dirujuk oleh
Ringkasan Peristiwa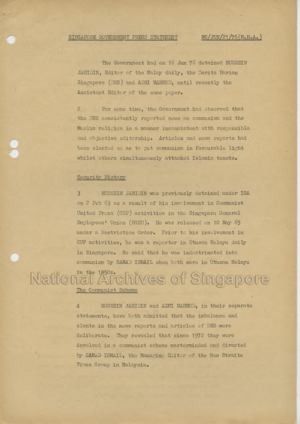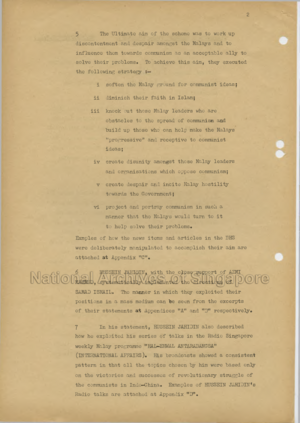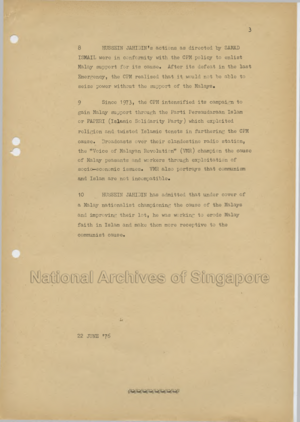 Sumber asal pernyataan Kementerian Ehwal Dalam Negeri Singapura yang dirujuk dalam laporan ini: MINISTRY OF CULTURE, 22/6/1976: |"THE DETENTION OF HUSSEIN JAHIDIN AND AZMI MAHMUD, EDITOR AND ASSISTANT EDITOR OF THE MALAY DAILY BERITA HARIAN SINGAPORE (BHS) ON 16 JUN 76".

Mantan Perdana Menteri Singapura, Lee Kuan Yew, turut merakamkan sedikit latar peristiwa ini di dalam memoir beliau: "A few weeks after (Tun) Razak's funeral, he (Tun Hussein Onn) visited Singapore, saying he wanted to establish good personal relations and be able to discuss and overcome bilateral problems. We had a one-on-one meeting. I told him my fears of Malay communists and their sympathisers penetrating Malaysia's mass media and their radical Malay student and trade union leadership. We talked freely and frankly about the Malay communist infiltration of his media, including the activities of Samad Ismail, an MCP member from his time in Singapore in the 1950s, and his group. When Razak was prime minister, Samad had worked his way into UMNO and become a powerful figure in the New Straits Times and Berita Harian, building up a coterie of supporters. Hussein agreed this was a danger but said that the communists and student radicals could not be arrested without upsetting the Malay ground. Later, in June 1976, the ISD arrested one of Samad's disciples in Singapore, Hussein Jahidin, a Berita Harian editor. He implicated Samad and several other Malay journalists in Kuala Lumpur as pro-communists. The Malaysian Special Branch arrested Samad and his Kuala Lumpur group. Hussein Onn had had the courage to act against a pro-communist Malay intelligentsia although this was likely to cost him some support." (Lee Kuan Yew, 2012: |"From Third World to First: The Singapore Story, 1965-2000", m.s. 245-246).
Pengakuan Para Tahanan
Peristiwa selanjutnya: "In a series of public talks over the radio in 1961, entitled 'The Battle for Merger', Lee (Kuan Yew) repeatedly alleged that (A) Samad (Ismail) (using his MNP code name Zainal backwards), was a communist and connected to the Malayan Communist party. The then general manager Of the Straits Times press in Kuala Lumpur, A. C. Simmons, also confirmed that he was under pressure from 'certain Singaporeans' to sack Samad from Berita Harian. Much to Lee's annoyance, the campaign to tarnish Samad proved ineffectual. This was demonstrated by Samad's rapid rise within the ranks of the Straits Times in Kuala Lumpur, and his growing influence within leftist UMNO circles close to Tunku's successor, Tun Razak. Indeed, Samad and other former PAP stalwarts who had relocated to Kuala Lumpur, such as James Puthucheary, were advising the Alliance leadership on rehabilitating Malaya's pro-Western image within the Afro-Asian bloc. Samad and Puthucheary were regularly included in Malayan delegations to Afro-Asian solidarity conferences in the mid-1960s. However, Samad's insider status within UMNO circles was short-circuited by the 1976 'confession' of ISA detainee Hussein Jahidin, a Singaporean Berita Harian editor and former Utusan journalist. Inter alia, Hussein had 'confessed' that Samad and other senior Malaysian newspapermen were communists. Shortly after, Samad and other supposed communists were detained under the ISA in Malaysia. Satisfied by the Malaysian government's swift clampdown against Samad and other 'communists', Lee noted in his memoirs that "Hussein Onn has the courage to act against a pro-communist Malaysian intelligentsia". (Lily Zubaidah Rahim: "Winning and Losing Malay Support: PAP-Malay Community Relations, 1950s and 1960s", disunting oleh Michael D. Barr, Carl A. Trocki: 2008: Paths Not Taken: Political Pluralism in Post-War Singapore, m.s.100-101).

Menurut beberapa sumber lain, pernyataan pengakuan serta wawancara ini adalah berunsur paksaan, ketika berada di dalam tahanan ISA:-
Pengakuan penting: Kami bukan ahli sejarah! Sila klik di sini untuk penjelasan lanjut.